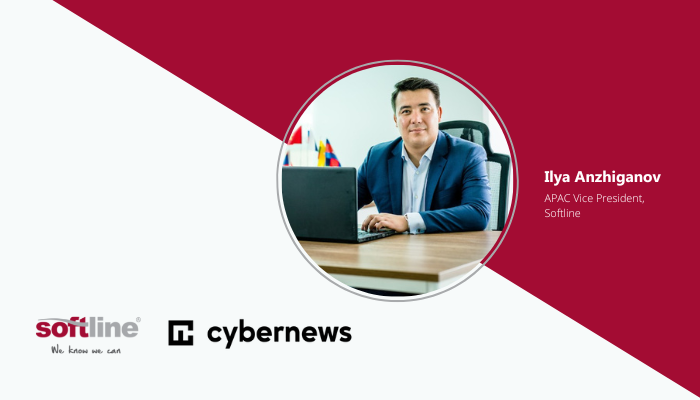 Ilya Anzhiganov, Softline: "don't wait for a security breach to happen to take cybersecurity seriously"- Cybernews
Together with the rapid digital transformation, businesses are facing many cybersecurity challenges, causing a need for more hybrid workforce solutions.
The switch to remote work left companies unprepared, especially in terms of cybersecurity. Unprotected network and personal device usage increased the risk of data breaches, ransomware, fraud, and other threats.
While some employees try to secure themselves with the use of high-quality password managers, other companies rely on more complex solutions, such as eliminating the IT knowledge gap and other cybersecurity services.
That's why we talked to Ilya Anzhiganov, the Vice President of Softline APAC – a company that specializes in digital transformation and cybersecurity solutions.
Both your team and client base have grown exponentially since your start in 1993. What was the journey like for Softline?
It is a nearly 30-year story – Softline has established a proven track record of successful development and continued growth. Back in 1993, our company started with a clear focus on scientific software licensing and utilizing a direct mail approach as its primary market strategy. Then, we expanded our portfolio of Global vendors, such as Microsoft, Symantec, IBM, etc, to grow our business. Today, our Group's portfolio has expanded to more than 6,000 global IT vendors, becoming a market leader where we offer a one-stop solution provider for any IT solution. We expanded our footprint every year by launching new offices and new country presence in different regions, including Latin America, Central, and Eastern Europe, Africa, and lastly the APAC.
In the year of 2008, Softline opened its 1st office in the APAC region, Vietnam. And up to date, we currently have a presence in 6 countries in the APAC region – Vietnam, Malaysia, Cambodia, Myanmar, Thailand, and the Philippines with around 200 employees.
From a local software reseller with only 10 employees, Softline is now a public-listed company on London Stock Exchange with 8,000 employees globally.
Can you tell us a little bit about what you do? What industries do you mostly work with?
As a Vice President of Softline APAC, I'm overseeing the business, Softline APAC companies' operations, and the progress of employees. Softline's target focus is the Emerging markets and followed by the Enterprise and Corporate segments across the industry.
The pandemic has encouraged companies to revolutionize for business agility & sustainability. We, at Softline, aim to promote the growth of our clients' businesses by driving their digital transformation with cutting-edge information technologies and cybersecurity solutions. We believe supporting these companies to sustain and grow will accelerate the country's economic cycle and society's consumption.
What are the most common challenges that companies run into on their digital transformation journey?
Businesses no longer view digital transformation solely as a source for innovation but a requirement for business continuity, enabling teams to work anywhere and organizations to rapidly adjust in the face of a crisis. Although more and more businesses are adapting to it, they face challenges, too.
One of the challenges is the lack of change management in an organization. Businesses need robust organizational change management to have a successful digital transformation. From the upper management team down to their employees, they need an aligned structure to implement and ensure a seamless transition that is required to execute the digital transformation strategies.
Second, gaps in IT resources and expertise. It is essential to take this challenge seriously and get rid of it before embarking on your digital transformation journey. You must assess your current resources and if you see gaps, you will have to skip the boundaries. Look for talent/resources outside and source what is required.Third, cybersecurity. A recent study shows that we will be expecting global cybercrime costs to grow 15% every year for the next 5 years, and reach USD 10.5 trillion by 2025. Therefore, it's the topmost challenge faced by many organizations while embarking on a digital transformation. Successful integration of digital technologies requires a transformation in security.
How do you think the pandemic affected the way people perceive cybersecurity?
Without a doubt, Covid-19 forced organizations around the globe to speed up, causing them to rely on digital initiatives in response to a crisis. Along with these changes, businesses see an increase in cybersecurity threats and risks. Companies should adopt practices to better enforce the capability of workforces to work remotely and focus should be put more on implementing stronger security controls to reduce cyber risks. Becoming a victim of cybercrime will heavily affect the company's reputation and finances. It causes ruined relationships with customers and even puts the company in a position with legal risk from failure to comply with regulatory and compliance obligations. Therefore, Softline advises companies to revisit their security posture and adds some checks regularly.
What types of cyberattacks do you think we are going to see more of in 2022?
As your business grows and the complexity of the IT environment increases exponentially, your security requirements should evolve, too. I believe these kinds of attacks will still be here regardless – they may come in the form of phishing and malicious attachments via emails. Cybercriminals may also be exploiting bugs that emerge from software updates, while others might strike when you are transitioning from on-premise to the cloud. What we can do is mitigate the increasing number of cyberattacks by strengthening our security measures in our working environment, especially to protect our most sensitive information and business-critical applications.
With more security options and providers available than ever before, certain companies and individual users still hesitate to upgrade their cybersecurity. Why do you think that is the case?
The digital economy is inescapable so the topic of cybersecurity is enormous. I believe the bottom line of all these hesitations is that they haven't had a security breach recently. Don't wait for it to happen before you take cybersecurity seriously enough. Cybersecurity efforts should focus on risk management instead of risk mitigation. Every organization needs an ongoing plan in place to protect against the likelihood of cyberattack, which can cost millions, and even put you out of business.
In your opinion, what IT and cybersecurity solutions are essential for companies nowadays?
Softline is recommending a modern IT approach to security – Zero Trust, which is based on the principle: never trust, always verify. This security approach protects a company by managing and granting access based on the continual verification of identities, devices, and services. No one and no device should be trusted by default from inside or outside of the network, and they always need to be verified.
As for casual internet users, what safety practices do you think everyone should adopt to stay safe online?
With billions of devices connected to the Internet, staying safe online should be your utmost priority. You must keep your personal information professional and limited. Practice safe browsing and keep your privacy settings on. Be careful about what you download or click, always choose strong passwords, beware of phishing emails, backup your data, and always update your cybersecurity system.
What does the future hold for Softline?
The company is entering a new phase of its development and growth after its successful IPO on London Stock Exchange recently. We are optimistic about the future, and we have a great expertise and specialist team. We will continue to evolve into a global leader in digital transformation and cybersecurity. Our focus remains on placing our customers' needs as our priorities as well as our partnerships with our 6,000+ IT partners and vendors. I would like to take this opportunity to express my gratitude to our customers and partners for believing in Softline as their digital transformation provider.
Check out the coverage on Cybernews here, and to catch more digital news visit Cybernews.