Softline today proudly announced it has won the 2017 Microsoft Country Partner of the Year Award for Cambodia. The company was honored among a global scope of top Microsoft partners for demonstrating excellence in innovation and implementation of customer solutions based on Microsoft technology.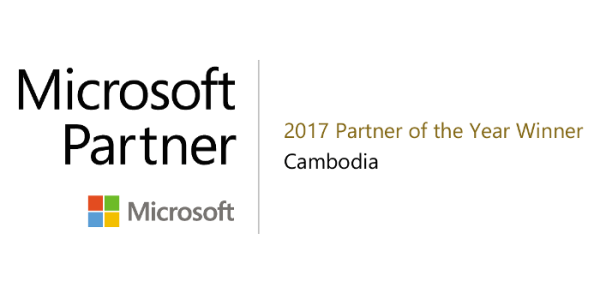 "We appreciate very much Microsoft's recognition of Softline as the Partner of the Year 2017 in Cambodia. It was an honor to collaborate with Microsoft in helping clients reinvent their businesses basing on Microsoft technology. With hundreds of certified prossionals around the globe we deploy hundreds of solutions for our customers every year and deliver Microsoft's cutting-edge technologies customized with Softline value-adding services" – says Ilya Anzhiganov, Softline Managing Director for Vietnam, Cambodia, Myanmar and Laos.
Awards were presented in several categories, with winners chosen from a set of more than 2,800 entrants from 115 countries worldwide. Softline was recognized for providing outstanding solutions and services, as well as representing excellent subsidiary engagement in Cambodia.
The Microsoft Country Partner of the Year Awards honor partners at the country level that have demonstrated business excellence in delivering Microsoft solutions to multiple customers over the past year. This award recognizes Softline as succeeding in effective engagement with its local Microsoft office while showcasing innovation and business impact, driving customer satisfaction, and winning new customers.
"We are honored to recognize Softline of Cambodia as a Microsoft Country Partner of the Year," said Ron Huddleston, corporate vice president, One Commercial Partner, Microsoft Corp. "Softline is a prime example of the expertise and innovation we see in our Microsoft partner community to deliver transformative solutions." The Microsoft Partner of the Year Awards recognize Microsoft partners that have developed and delivered exceptional Microsoft-based solutions over the past year.
Softline is a leading global IT (information technology) solution and service provider focused on emerging markets such as Eastern Europe, Central Asia, Americas, South-East Asia and India.
Softline offers a diverse portfolio of cloud computing services such as IaaS, PaaS, SaaS, virtualization, collaboration, security, mobility through a choice of public cloud, private
cloud and hybrid cloud based on our customer's needs. We also offer perpetual and
subscription licensing for a full range of software products, such as operating systems, virtualization, security, business productivity, creativity, education, CAD and others. Hardware solutions include storage, servers, networking and PCs. In addition, we provide services such as IT asset management, implementation, consulting, IT outsourcing, technical support, managed services and training. For more information, visit www.softlinegroup.com.
For additional information:
Helen Liew, Regional Marketing Manager, Softline: +603 2302 1600 or helen.liew@softlinegroup.com.
Product or service names mentioned herein may be the trademarks of their respective owners.